News archive
Metroid turns 25!
Sunday, August 7th, 2011 at 02:59:24
GMT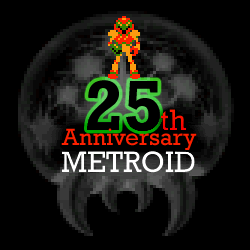 Happy birthday Samus! On August 6, 1986, Metroid arrived in Japan for the Famicom Disk System. Twenty-five years later, with ten games across more than 7 gaming systems, the Metroid saga has humbly cemented itself into gaming culture. I personally didn't join Samus' adventures until 1999, but I can imagine that many long-time fans have been following the series from the very beginning, all those years ago!
To help celebrate the occasion, the Metroid fan website community has been extremely busy preparing special projects. Up first is a special podcast from Metroid Headquarters (MHQ), in which the webmasters from MHQ, Shinesparkers, the Metroid Database (MDb), and myself discuss the 25th anniversary and how we're all planning to help celebrate. I'd like to thank MetroidMaster1914 and Falcool of MHQ very much for having me onboard for their latest podcast! Head to MHQ's website to listen to, or download the podcast.
Darren from Shinesparkers has been tirelessly working on two special features, one of which is now available. Darren has organised a special personal tribute video in which fans express their fondness for Metroid and offer well-wishes for the 25th anniversary. Not only do fans offer tributes, but professional game developers like Gene Kohler, Daisuke Amaya and Team Ninja's Yosuke Hayashi join in too. Even Jessica Martin (the voice of Samus in Metroid: Other M) offers her well-wishes! Check it out:
I would have left a message too, but was too caught up in our Metroid: Other M walkthrough at the time (sorry!...). The webmasters of MHQ, Shinesparkers and the MDb were also featured in the latest issue of European gaming magazine N-Gamer, discussing the anniversary and how the series has evolved over the years (same excuse again why I wasn't involved too, double sorry!). Check out scans of the mag at the MDb!
For MR's part in the celebrations, I've launched our new YouTube Channel with a special video walkthrough - the Metroid: Other M Normal Mode Challenge! In this 14-part series, I play through the game in one sitting, picking up minimum items (3%) and surviving without any Game Overs. I'll keep a link to our YouTube channel in the Miscellaneous category of the site's main menu from now on. Swing over and have a look!
There's more features to come from the community, so I'll update again once they're ready. But for now, enjoy the celebrations!
Post a comment:
Comments entered below will await admin approval before appearing above.
Please be courteous and sensible in your posts, bad manners make the baby Metroid cry