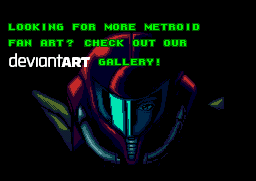 Fan art
Pictures tell a thousand words, and the wonderous environments seen in the Metroid series have never failed to please. Check out some fan-made pieces here inspired by the Metroid universe, and enjoy the devotion of talented fan artists.
At this point in time we are no longer processing fan art submissions, but if you'd still like to get your work up on the web I highly recommend deviantART.
All fan art below is posted with permission from the artists.
Artist
Date
Sunny C
Last updated February 19, 2011
Varia31
Last updated July 18, 2010 | Website
The Hunter
Last updated July 18, 2010
Nebulon
Last updated July 9, 2010
Amaroq Dricaldari
Last updated June 3, 2010
HYRUL3
Last updated May 26, 2010
Austin O'Donnell
Last updated May 1, 2010
Yonic
Last updated March 21, 2010
Kitana Adanya
Last updated November 25, 2009
Anais Paez
Last updated October 20, 2009 | Website
William Dickeson
Last updated July 11, 2009 | Website
Hydro033
Last updated June 20, 2009
Kasper
Last updated February 14, 2009 | Website
Alexiel
Last updated January 23, 2009 | Website
Claudio Esteban Ruiz Díaz
Last updated December 23, 2008 | Website
Paul Hanger - Metroid LEGO Models
Last updated September 9, 2008 | Website
David Bettencourt
Last updated August 31, 2008
DDDTrooper
Last updated August 27, 2008
Josh Wiley
Last updated August 8, 2008
Jaquio
Last updated July 5, 2008 | Website
Alex Scott - Dark Samus action figure
Last updated June 28, 2008 | Website
James Chung
Last updated March 28, 2008 | Website
Anonymous
Last updated January 19, 2008
Justin Ton - Samus Aran action figure
Last updated December 6, 2007 | Website
Zach Hillebrant
Last updated November 24, 2007
Jenni Källberg - Samus Aran cosplay
Last updated November 23, 2007 | Website
Chris Jones
Last updated August 18, 2007 | Website
Captain Mocha
Last updated July 17, 2007
Genevieve Tan
Last updated April 10, 2007 | Website
Ashley White
Last updated April 10, 2007
Ivan Flores
Last updated April 8, 2007 | Website
Adam Vehige
Last updated March 7, 2007 | Website