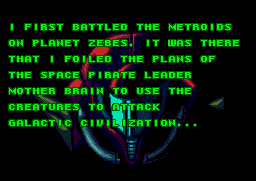 Fan fiction
Tales of Samus' bounty hunting exploits delve much deeper beyond her Metroid and Space Pirate confrontations.
Despite isolation and barely two words spoken, Samus lives in a rich universe offering countless stories to be told around the glow-lamp, whether it features her daring fights against Space Pirate foes, the vast galaxy-spanning Galactic Federation, or tales from the ancient Chozo race.
The world of fan fiction cracks open Samus' adventures beyond the games, so enjoy browsing through fan interpretations of her many exploits.
At this point in time we are no longer processing fan fiction submissions.
All fan fiction is posted with permission from the authors.
| Title | Author |
| --- | --- |
| Dark Samus is Born | Omicorn |
| Darkest Ridley's Metroid | Darkest Ridley |
| Despair | Stefan Gewiss |
| Emergency! | Zyrtsuryu |
| Extremis | The Hunter |
| Fyrwolf's Metroid Prime Hunters Series | Fyrwolf |
| Hunter Beginnings | Brad Roberts |
| Ing Possession | Omicorn |
| Justin Ortlip's Metroid Fusion | Justin Ortlip |
| Maximus Kolan (Original draft) | Varia31 |
| Metroid - Beyond the Fusion | Ninjakirbyshroom |
| Metroid Prime: Hunters 2 | Nebulon |
| Metroid Skylab | Varia Tyra |
| Metroid: The Cronus Cluster | Chase Buesking |
| One Girl in All the World | Aleclom |
| PED Suit/Corrupt Hypermode | Omicorn |
| Power Suit | Omicorn |
| Samus Aran and The War of Eternity | Adorios |
| Samus vs. Ridley: The Epic Battle | Elgnirp |
| Ship's Log No. 0794 | Fernando Verduzco |
| The Birth of Phaaze | Melissa Goings |
| The Origin of Kraid | Elgnirp |
| Varia31's Metroid Prime Hunters Series | Varia31 |
| What am I? | Luminothlight34 |
| Zer0 Aran | Brad Roberts |