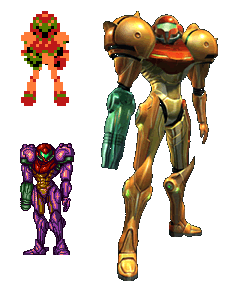 About this site
Metroid Recon was launched in 2006 to help celebrate the wonderful world of Nintendo's Metroid franchise and inform and entertain fans of the series.
The development of the site has been largely a one-man show. Earlier in 2003, I began writing a GameFAQs-style text walkthrough for Super Metroid to help give something back to the creators of the franchise and help those lost in the bowels of Zebes.
Since then I slowly branched out with walkthroughs for the rest of the series up to the time before Metroid Prime 2's release. After submitting a range of guide materials to the Metroid Database and receiving fantastic feedback from readers, I felt it was time to take the guides to the next level and incorporate them into a proper website.
Drop by each game section to find plenty of information and walkthroughs to help guide you through Samus' adventures - just please be aware of spoilers throughout the site; the guides are here to help, not to ruin the experience.
Although the site's main focus revolves around the guides, we've since expanded to include a range of multimedia and fan-made offerings. Enjoy your visit!
Special thanks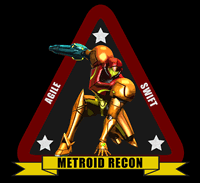 During the site's few short years in action I've been chuffed by the good will and contributions of many Metroid fans out there, and would like to make mention of my appreciation here.
A big thank you to everyone who has submitted feedback, comments, support, suggestions and especially for all those who spotted mistakes or offered tips for the guides. Thank you also to all the submitters of fan fiction, fan art and wallpapers, and any other material kindly donated (and a big thanks to Aaron Grincewicz for the logo on the right!).
Finally, a big thank you to all fans of Metroid, from people who remember how the site looked back in 2006 to anyone just dropping by to sneak a peek at one of the games' endings (you really should beat the games and see the endings yourself... but then why do we have the endings displayed on this website? Touché...). Thanks everyone!
Legal information
All original Metroid content including but not limited to characters, game, scenario, music, program and graphics is TM and © Nintendo Co., Ltd. Nintendo Entertainment System (NES), Game Boy, Game Boy Advance, Super Nintendo, Nintendo GameCube, Nintendo DS, Nintendo Wii, Virtual Console and all related material is TM and © Nintendo Co., Ltd.
Metroid Recon is in no way affiliated or sponsored by Nintendo. The content on this website is provided unofficially for entertainment purposes only and no copyright infringement is intended in the creation of this website.
In particular, soundtrack offerings on this website are made for the purpose of fan enjoyment and due to the lack of readily-available official soundtracks. I do not wish to impede on Nintendo's copyright nor harm their intellectual property with any material presented on this website.
All other original content on this website including but not limited to web code, graphics, layout and guides is © 2006-2023 Metroid Recon and may not be used on any other website or in any other media format without permission.
Unauthorised game software will not be provided here.
This site is best viewed using the latest Internet Explorer, Mozilla Firefox, Safari or Google Chrome with a 1024x768 or higher resolution and 32-bit colour.
No personal information is recorded from visitors when viewing this website.